Helps Celebrate Uniqueness!
The Youngster's Personality Horoscope helps a young person to get to know their unique and special nature. And to celebrate it! Speaking directly to them, it's written in a positive, easy to understand style and offers valuable encouragement on the benefits of being true to themselves. Emotional needs, thinking style and talents are uncovered plus the sort of stuff likely to bring pleasure and contentment. An invaluable keepsake, it looks fantastic too! Just needs the time, date and place of birth.
Add A Photo!
Having his or her photo appear on the front cover makes their Personality Horoscope extra special!  For only an extra £4, you can easily upload a photo when you place your order.
Hand-Bound and Beautifully Presented
The 14 page hand-bound Youngster's Personality Horoscope makes a really unusual but very useful gift for all youngsters or their parents. It costs £28 – or £32 if you want to add a photo – and includes free UK delivery. Your unique gift will arrive beautifully presented within 3-5 working days.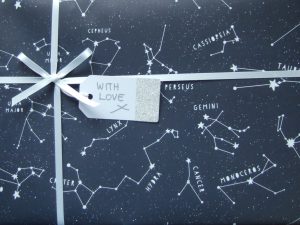 Have it gorgeously gift-wrapped too!
AstroSense offers a full gift wrapping service where we can wrap your gift to give it that extra special touch.
We use high quality wrapping paper and ribbon plus a gift tag to add a message.