Are you Compatible?
You will find out with this comprehensive Relationship Horoscope! It compares you and your partner?s Astrological Birth Charts to analyse your relationship and reveal the connections between you. It shows how you each view your relationship and reveals traits that predispose each of you to be attracted to certain types of relationships. In comparing each of your Astrological Birth Charts, there will always be challenging connections as well as harmonious ones. It would be a pretty boring union without a few challenges!
A Meaty and Stimulating Read
Above all, remember that if you have met and fallen for a person, then that already shows compatibility. First listen to your heart then use what you can learn from this absorbing Relationship Horoscope to improve on what you have. The Relationship Horoscope not only makes a meaty read for yourself and your partner, it makes a really unusual and stimulating gift for any couple.
Hand-Bound and Beautifully Presented
The 20 page hand-bound Relationship Horoscope makes a truly thoughtful and unusual gift. It costs £35 including free UK postage and will arrive beautifully presented within 7 working days.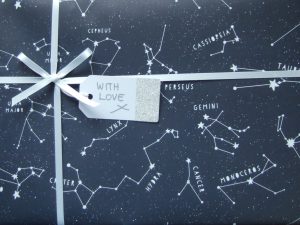 Have it gorgeously gift-wrapped too!
AstroSense offers a full gift wrapping service where we can wrap your gift to give it that extra special touch.
We use high quality wrapping paper and we always add ribbon and a gift tag if there is a gift message.